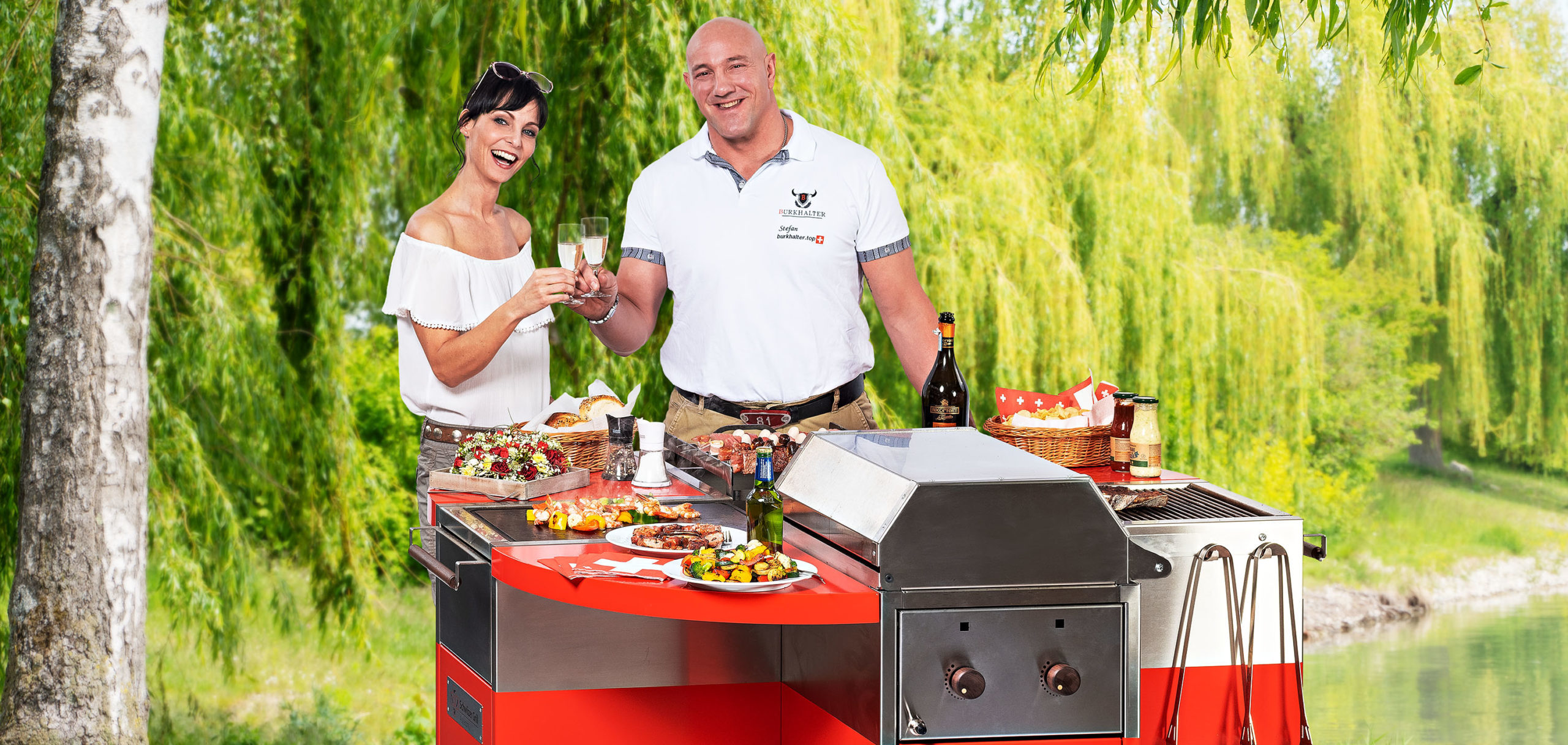 Schwiizer Grill 4 seasons
Cosy grilling is one of many people's favourite activities during the warmer and sunny season. This remains with the unique Schwiizer Grill 4 seasons from Thurgau/Switzerland
no longer so.
Under the motto "enjoy and experience the smell of switzerland all year round", Swiss-wide grilling is now a year-round pleasure.
Whether meat, fish, vegetables, fondue, raclette, cheese toast, fried eggs, marroni, mulled wine, flame cake, pizza, minestrone, rösti, risotto, suckling pig, and, and, and… – is possible on the multifunctional grill innovation simultaneously and at any time of the year!
Swiss quality – 10-year warranty
Schwiizer Grill 4 seasons
instead of CHF 9'990/ incl. Vat.

Introductory offer valid until 30.09.2020.

Their Schwiizer Grill 4 seasons, the world's first and only cross grill, with 4 grill and cooking places of a total area of 7200 cm2, 1 gas firing and 3 fireplaces for coal or wood, leaves in its multifunctional and year-round use from 10 people and more, really no more wishes unfulfilled.

Find out more about the comprehensive service package of the Schwiizer Grill 4 season at the price of 9'990 CHF incl. VAT and delivery.

Would you like an individual Schwiizer Grill 4 seasons?

Thanks to the in-house production and the multifunctionality of the Schwiizer Grill 4 seasons, you can put together your very own Schwiizer Grill 4 seasons. So much is possible: More gas firing, more corner tables, special accessories or your logo/advertisement placed. Let us know your wishes and needs, you will receive a tailor-made offer from us.
Product
Cross grill in chrome nickel steel stainless and walnut handles, sanded with colour version red powder coated
Use of heat-resistant high-quality sheets/metals
Multifunctional suitable for 10 people and more
4 grill areas each 50 x 36 cm; divided into 1 grill grate, 1 Maroni roast,
1 teppanyaki plate, 1 shatmotstone holder with 2 shamrocks
and 1 Grillspiess attachment (all applicable in any grill area)
Tipping hood with thermometer for use with upper heat
3 fireplaces for coal or wood
1 adjustable gas firing with electric ignition,
2 high-performance torches incl. 2 safety valves and oil collection plate (excl. gas cylinder)
4 lockable substructure cabinets (1 x for gas cylinder and 3 x for a storage space with 1 inner shelf each)
2 integrated corner tables for hanging for aperitifs, food or for set-up
1 bowl for easy emptying of the coal
1 Grill tool holder
Easy handling and quick commissioning (gas firing heated to 300 degrees in max. 10 minutes)
In-house handmade production in Swiss Made quality

Accessories
Optionally available:
Additional gas firings
Additional grill grate
Additional teppanyaki plates
Additional Maroni roasts
Additional bracket with 2 shatmot stones
1 Additional tilting hood with thermometer
Mobile barbecue hoods
1 suckling pig attachment incl. Electric motor
Additional corner tables
Additional shelves for substructure cabinets
1 Ashscraper
4 or 7 Schwiizer Grill Panorama Spiesse (mountain ranges of Switzerland)
Grill toweds by Schwiizer Grill 4 seasons

Guarantee
10 year warranty
(except wear parts, discoloration and wear and tear)

Weekdays
Monday to Friday
Morning
07:30 – 12:00
Afternoon
1:30 p.m. – 5:00 p.m.
Mail
info@schwiizergrill.ch
Address
Amriwilerstrasse 55
8570 Weinfelden