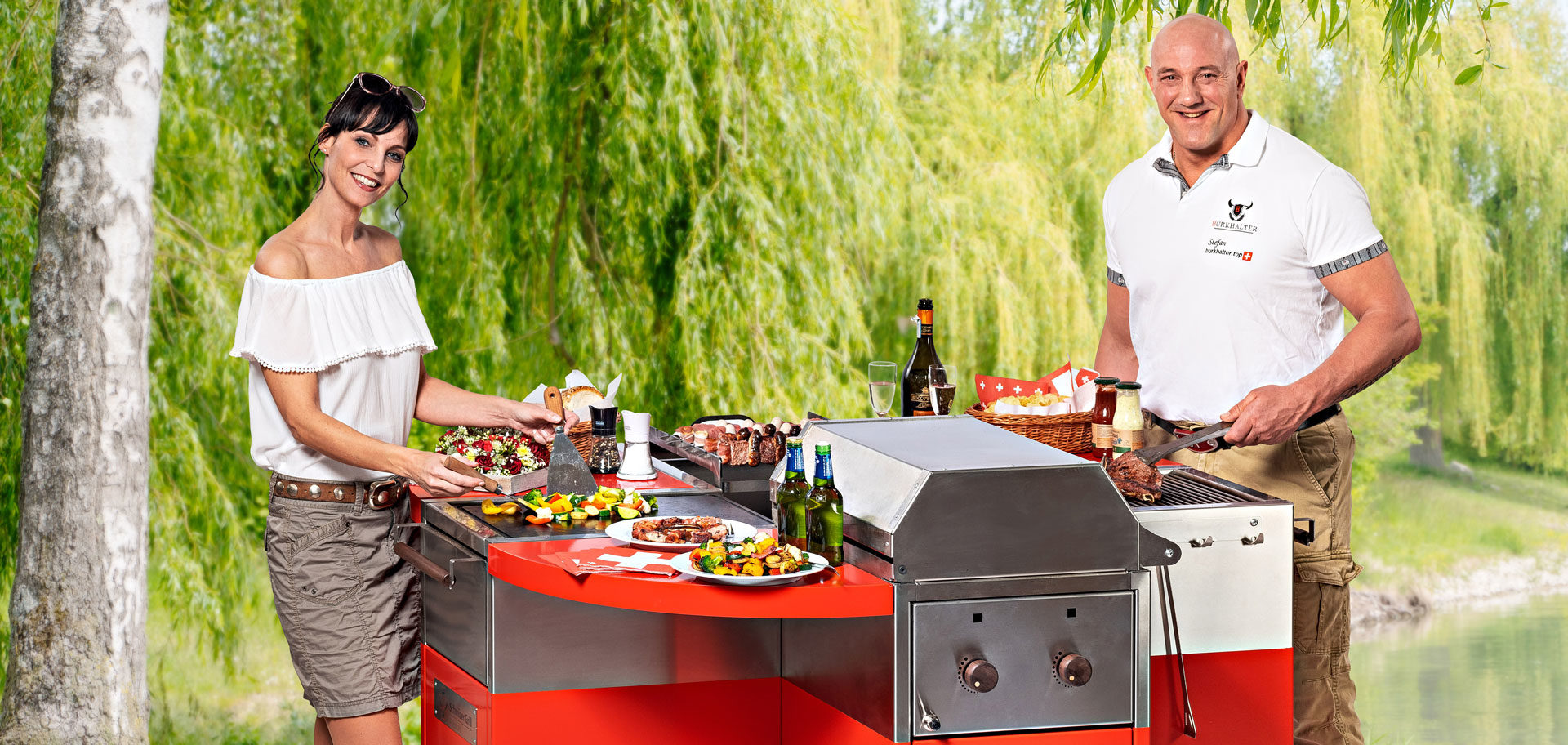 Schwiizer Grill 4 seasons for your occasion rental
Are you planning an event and would you like to surprise your guests with the Schwiizer Grill 4 seasons? – A unique experience, as easy to use as a standard barbecue, at any time of the year with the appropriate dishes, multifunctional application on 4 barbecue/cooking fields and suitable for a few people and up to major events.
Mass: length and width 1.60 m and working height is 1.00 m
Weight: 280 kg
Fireplaces: 4 grills/cooking points (1 gas firing and 3 charcoal/wood)
Grill inserts: Selection of teppanyaki plate, shamrocks, grill grate, suckling pig attachment, Maroni roast and grill-spiess attachment are available and by arrangement.
Pick-up: 1 day before the event ready for collection, packed on a Euro pallet at Schwiizer Grill 4 seaons, Amriswilerstrasse 55, 8570 Weinfelden
Return transport: 1 day after the event, the Schwiizer Grill 4 seasons is uncleaned on the supplied Euro pallet incl. Packaging at Schwiizer Grill 4 seasons, Amriswilerstrasse 55, 8570 Weinfelden.
Any damage: If any damage is caused during the rental, the tenant shall be fully responsible for the damage incurred.
Delivery service: We are happy to deliver the Schwiizer Grill 4 seasons for your occasion and pick it up again. Let us make an offer.
Advice: When picking up or delivering the Schwiizer Grill 4 seasons, we advise and instruct you and pass on tips. Because your event should be a complete success and your guests will be delighted.
Schwiizer Grill 4 seasons
Rent
Rental costs for 1 – 3 days: CHF 360.00 exclusive transport

Cleaning: CHF 90.00

Gas bottle and coal/wood available separately as required and for additional billing

We are also happy to provide you with the delivery and pick-up service. We will be happy to make you an offer.
Product
Cross grill in chrome nickel steel stainless and walnut handles,
sanded with colour version red powder coated
Use of heat-resistant high-quality sheets/metals
Multifunctional suitable for 10 people and more
4 grill areas each 50 x 36 cm; divided into 1 grill grate, 1 Maroni roast,
1 teppanyaki plate, 1 shatmotstone holder with 2 shamrocks
and 1 Grillspiess attachment (all applicable in any grill area)
Tipping hood with thermometer for use with upper heat
3 fireplaces for coal or wood
1 adjustable gas firing with electric ignition,
2 high-performance torches incl. 2 safety valves and
Oil collection plate (excl. gas bottle)
4 lockable substructure cabinets (1 x for gas cylinder
and 3 x for a storage space with 1 inner shelf each)
2 integrated corner tables for hanging for aperitifs, food
or for setup
1 bowl for easy emptying of the coal
1 Grill tool holder
Easy handling and quick commissioning (gas firing
in max. heated to 300 degrees for 10 minutes)
In-house handmade production in Swiss Made quality

Weekdays
Monday to Friday
Morning
07:30 – 12:00
Afternoon
1:30 p.m. – 5:00 p.m.
Mail
info@schwiizergrill.ch
Address
Amriwilerstrasse 55
8570 Weinfelden